There is a legend that in times of great need, a person wielding the power of all six Elements will come forth to bring peace to New Earth.
The myth of the Six-Elemental is almost seven hundred years old, and the possibility of someone having the power of more than one Element has been thoroughly disproven by science. None of this matters, however, when Kit Tyler receives the power of all six Elements on her twenty-first birthday.
Unsure of how the world will react, or how to wield her powers, Kit keeps this information a secret, swearing that she will reveal it when she is stronger and more worthy. After all, the only thing worse than being a walking myth is being a disappointing one. When the opportunity comes along to help prevent an impending war, she sees this as her chance to prove herself.If she can do this then nobody will question why she, of all people, was chosen.
But what if she fails? What if her secret is uncovered before she's ready? And what if she ends up starting the war she is trying to prevent?
---
The Lightbulb Forest by Ali House
Series: The Segment Delta Archives, Engen Universe
The Pitch: 40 Stories from Canada's Best Storyteller! Tales to thrill, amaze, and excite: Ali House can do it all! This author has mastered every genre of story she's tried her hand at, and now — finally — her amazing short fiction and flash fiction is collected in one place! Including stories that tie into the Segment Delta Archives series and the Engen Universe series, this collection has something for everyone!
---
The Fifth Queen by Ali House
Series: The Segment Delta Archives, #2
The Pitch: Kendra Chen never considered her life to be particularly special, but when her uncle reveals a startling family secret, everything she thought she knew changes. Suddenly, she finds herself headed along a new and unexpected path, picking up where others have left off.
---
The Six Elemental by Ali House
Series: The Segment Delta Archives, #1
The Pitch: In a world that has become accustomed to natural laws surrounding youths receiving power on their twenty-first birthday, Kit Tyler shatters those conventions by receiving the power of all six Elements. kit struggles to keep the nature of her newfound abilities secret as she tries to uncover the myth — and truth — behind The Six Elemental.
---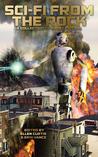 Sci-Fi from the Rock by Erin Vance
Series: From the Rock, #2016
The Pitch: Ali House pens the short story "Twenty-One," which deals with Kit Tyler's twenty-first birthday, the shocking events of it, and how they affect Kit and her world leading into The Six Elemental.
---
Unexpected Stories by Ali House & Amanda Labonté
Series: Call of the Sea, The Segment Delta Archives
The Pitch: Five amazing short stories from the talented minds of both Amanda Labonté and Ali House, featuring daring new YA fantasy fiction, links to The Segment Delta Archives, and the enchanting world of Call of the Sea!