The early years of Xander Drew as he struggles with the evils of his small rural hometown of Coral Beach, Maine. Cursed with the heart of the Womb and the gift of seeing the world around him for what it really is, Xander and his friends are no longer able to see their childhood home through the eyes of pleasant nostalgia — but rather as the horrific cesspool it really is.
Xander must learn the hard lessons about the nature of humanity to traverse the minefield of criminals, gangs, and abusers that stand between him and ultimate happiness — but most of all that sometimes it takes a monster, to catch a monster.
---
The Black Womb series was written by Matthew LeDrew and published between October 2007 and April 2014, and is composed of ten novels, one book of short-fiction, and one short story published in an anthology series. It was repackaged and published between February and December 2019 as Coral Beach Casefiles.
---
Black Womb by Matthew LeDrew
Series: Coral Beach Casefiles, #1
The Pitch: Fifteen years ago, something happened in Coral Beach, Maine that resulted in the death of a seventeen-year-old boy today. Now four high-school students must try to solve a mystery almost two-decades old… before the killer picks them off one by one.
---
Transformations in Pain by Matthew LeDrew
Series: Coral Beach Casefiles, #2
The Pitch: When two girls are assaulted and one is hospitalized, the residents of Coral Beach must put their shared tragedies behind them and stop the man responsible, as well as unlock the secrets behind the true nature of the Black Womb…
---
Smoke and Mirrors by Matthew LeDrew
Series: Coral Beach Casefiles #3
The Pitch: The approaching execution of Adam Genblade brings closure to the men and women of Coral Beach… until people start showing up dead in the same manner they did when he was at large. Now his victims are forced to keep him alive in order to get their answers… or accept that it may not have been him to begin with.
---
Roulette by Matthew LeDrew
Series: Black Womb, #4
The Pitch: As the teen suicide rate in Coral Beach starts to climb astronomically fast, Xander travels to Los Angeles to fight his most terrifying adversary yet… and learns that the only thing worse than looking for release… is finding it.
---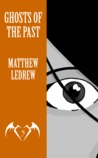 Ghosts of the Past by Matthew LeDrew
Series: Black Womb, #5
The Pitch: Black Womb's story continues as the town of Coral Beach faces its most awesome threat when one of Engen's past mistakes is unleashed upon the unsuspecting populous. Friends and enemies unite to fight a common enemy… but will even that be enough?
---
Ignorance Is Bliss by Matthew LeDrew
Series: Black Womb, #6
The Pitch: Black Womb's story continues in Black Womb: Ignorance is Bliss. After being set through the ringer one too many times, Xander decides that his personal life with Julie Peterson needs a little more attention… which is bad news for Coral Beach, because a new villain has come to town with his sights set on one person: Adam Genblade.
---
Becoming by Matthew LeDrew
Series: Black Womb, #7
The Pitch: For months Xander Drew has been doing his level best to keep the streets of Coral Beach clean, and now it's time for the forces of darkness to strike back… all at once.
Be there for the single worst day of Xander Drew's life. There are some things that nothing can prepare you for..
---
Inner Child by Matthew LeDrew
Series: Black Womb, #8
The Pitch: In the wake of the Tee's attack on Coral Beach, Julie Peterson is hospitalized with life-threatening wounds to both body and soul. But the real threat comes from the hospital walls themselves, as a demonic presence makes itself known to Xander and his friends.
---
Gang War by Matthew LeDrew
Series: Black Womb, #9
The Pitch: The Tees, an homicidal gang evil men, has finally been taken down by Xander Drew. But his victory is short lived, as retired Tees are killed one by one. With a town full of suspects, anyone can be the culprit… including one of their own.
---
Chains by Matthew LeDrew
Series: Black Womb, #10
The Pitch: The Black Womb series comes to its shocking — and suspenseful — conclusion in "Chains." Sociopath Derek Smith has been freed from prison and is roaming the back alleys of Coral Beach praying on the weak, and none are weaker than August Styles: a pregnant girl with Down Syndrome who has run away from home. Complicating matters further is the revelation that Xander does not have the control over his animal side he thought he did, and that perhaps the lines that divide his dueling natures are not as clear as he would have hoped.
---
The Long Road by Matthew LeDrew
Series: Coral Beach Casefiles (epilogue), Xander Drew (prologue), Infinity (related)
The Pitch: While on his journey of self-discovery he meets the American people — the real American people, not the ones he grew up learning about in class, and realizes that the world doesn't work the way it does in his small town back home. The real world is harsh and wicked, but can also be soft and gentle — even loving. Xander Drew comes of age on the road, and sets his new direction.
---
Light-Dark by Erin Vance (Editor)
Series: Infinity (prologue), Coral Beach Casefiles (prologue)
The Pitch: Ten short stories that shine a light into unseen corners of the Engen Universe! Tense thrillers like The Tourniquet Revival, which sees Kat Smith alone against a cultist kidnapper, and Reptilia, a modern-day rollercoaster ride with zombie-like hoards descending upon a remote town! See the secret link between Infinity and Black Womb in Revving Engen, a YA tale centered around a shy New England youth named Nick Carry. See the suspenseful first appearance of Scarlett, the Engen Universe's resident monster hunter, and get a dark glimpse into the possible future of the Engen Universe with Remers.
Sure to have something to excite and impress any reader!