The world is changing, and we have to change with it. That was the one thing that Victor was really sure of when he started looking for special people: people who could change the possibilities of the future from something certainly grim… to something infinitely positive.
Now four unsuspecting people from different backgrounds and walks of life have been thrown into the mix together, and nothing will ever be the same. But there's a difference between hoping for a better world and actually having one, and there will always be resistance to change.
Destiny doesn't wait for anyone.
---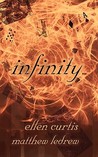 Infinity by Ellen Curtis and Matthew LeDrew
Series: Infinity, #1
The Pitch: Faced with a destiny he's uncertain of, the enigmatic Victor must bring together four unique people with very special abilities… or face the tasks ahead alone. Guaranteed to excite!
---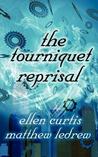 The Tourniquet Reprisal by Ellen Curtis and Matthew LeDrew
Series: Infinity, #2
The Pitch: There is a man living in Atlanta Georgia that people don't talk about, but everyone knows he's there. He arrived a year ago and turned a gaggle of uneducated and uninterested youth into a force to be reckoned with; something to fear more than any demon or violent act: something new.
---
Exodus of Angels by Ellen Curtis and Matthew LeDrew
Series: Infinity, #3
The Pitch: Theo returns to the mental institution called Black Springs to help a young girl who has been trapped there while at the same time hunting for a cure for the beleaguered Leigh Blackheart. At the same time, Victor and Jaycee venture to a palliative care unit in Los Angeles which holds a dark secret. Exploring themes of responsibility, the bounds of friendship, and assisted suicide, this installment is not be missed.
---
Touch Your Nose by Matthew LeDrew
Series: Engen Universe
The Pitch: Simon Monk is a spy living a lie in San Francisco, struggling to maintain his cover as he attempts to infiltrate one of the largest companies on the Eastern seaboard: Shane International. Using his tech and his contacts and his cunning, Simon will get closer to some sinister dark secrets than anyone ever has… and possibly lose it all after a careless romantic slip.
How long can a man pretend to be someone else without losing who they are?
Buy the book that reviewers rave: "seductive potboiler that pulls you in and leaves your head spinning"!
---
Compendium by Ellen Curtis
Series: Infinity (prologue), Engen Universe
The Pitch: Delve deeper into the world of Engen Books than ever before with Compendium, the breakout novel by all-star author Ellen Curtis.
Featuring The Tourniquet Revival, Falling into Fire and At Midnight, The Dawn; plus a new introduction by the author!
---
The Theogony by Matthew LeDrew
Series: Infinity (prologue)
The Pitch: Theo, and young man with extraordinary talents residing in the horrible mental care facility Black Springs, is taken under the wing of a mysterious woman who claims to know where to find his long-estranged father. Together they embark on a journey through the dessert to discover what's left of his wandering, shattered spirit.
Click to find out how to get a FREE copy!
---
Light-Dark by Matthew LeDrew, Ellen Curtis, Jay Paulin, Sarah Thompson, & Andrea Hackett
Series: Infinity (prologue), Coral Beach Casefiles (prologue)
The Pitch: Ten short stories that shine a light into unseen corners of the Engen Universe! Tense thrillers like The Tourniquet Revival, which sees Kat Smith alone against a cultist kidnapper, and Reptilia, a modern-day rollercoaster ride with zombie-like hoards descending upon a remote town! See the secret link between Infinity and Black Womb in Revving Engen, a YA tale centered around a shy New England youth named Nick Carry. See the suspenseful first appearance of Scarlett, the Engen Universe's resident monster hunter, and get a dark glimpse into the possible future of the Engen Universe with Remers.
Sure to have something to excite and impress any reader!
---
The Long Road by Matthew LeDrew
Series: Coral Beach Casefiles (epilogue), Xander Drew (prologue), Infinity (related)
The Pitch: While on his journey of self-discovery he meets the American people — the real American people, not the ones he grew up learning about in class, and realizes that the world doesn't work the way it does in his small town back home. The real world is harsh and wicked, but can also be soft and gentle — even loving. Xander Drew comes of age on the road, and sets his new direction.
---