If you're one of the many people who picked up Fantasy from the Rock last month, you may have made your way through a few of the amazing and engaging stories within by now, including In Defense of Our Home and The City that Hid from Time Itself. If so, you've been introduced to the world of political intrigue and fantasy that is the Gold and Steel Saga by Christopher Walsh, and you're likely wanting more of the world of Illiastra… so what's next in the series?
Thankfully we have Christopher Walsh on speed-dial, so he can clarify the timeline of the ever-expanding Gold and Steel series anytime we want!
Dates are presented in the Triarchy system that most of Illiastra goes by. Triarchy is a 2000 year calendar that states after the two thousand years, the three gods will destroy the world in all-out warfare. This system is represented as [date] I.R.
1814-1815 I.R. – The Worth of Gold (forthcoming)
---
1814 I.R.  – As Fierce as Steel
As Fierce as Steel is the inaugural entry into the world of Gold & Steel, a new fantasy series from Canadian author, Christopher Walsh. It is centered around the lives of two women, those of the Lady Orangecloak and Lady Marigold Tullivan. One is the leader of a brave group of young men and women in open rebellion of their government. The other was born into that patriarchal world and destined for greatness, as a trophy wife, a fate she will do anything to alter.
---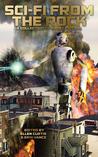 1814 I.R. – Stealing Back Freedom
The Pitch: Nineteen short stories written by an eclectic mix of some of the best science-fiction and fantasy authors in Atlantic Canada, some of them award-winning veterans and some of them new to the craft for the first time. Edited by Erin Vance and veteran science-fiction author Ellen Louise Curtis, this collection features the heartfelt, creatively charged, astonishing fiction that showcases the talent and charm Atlantic Canada has to offer. Featuring the work of Kenneth Tam, Scott Bartlett, Jay Paulin, Alison House, & many more!
1462 I.R. – The City That Hid From Time Itself (Fantasy from the Rock)
950 I.R. – In Defence of Our Home (Fantasy from the Rock)