Ali House is the author of 2 works published through Engen Books.
Novels
The Six Elemental by Ali House
The Pitch: There is a legend that in times of great need, a person wielding the power of all six Elements will come forth to bring peace to New Earth. The myth of the Six-Elemental is almost seven hundred years old, and the possibility of someone having the power of more than one Element has been thoroughly disproven by science.
None of this matters, however, when Kit Tyler receives the power of all six Elements on her twenty-first birthday. Unsure of how the world will react, or how to wield her powers, Kit keeps this information a secret, swearing that she will reveal it when she is stronger and more worthy. After all, the only thing worse than being a walking myth is being a disappointing one.
---
Short Fiction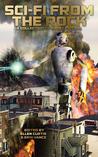 Sci-Fi from the Rock by Ellen Louise Curtis and Erin Vance
Series: From the Rock, #2016
The Pitch: Nineteen short stories written by an eclectic mix of some of the best science-fiction and fantasy authors in Atlantic Canada, some of them award-winning veterans and some of them new to the craft for the first time. Edited by Erin Vance and veteran science-fiction author Ellen Louise Curtis, this collection features the heartfelt, creatively charged, astonishing fiction that showcases the talent and charm Atlantic Canada has to offer. Featuring the work of Kenneth Tam, Scott Bartlett, Jay Paulin, Ali House, & many more!
Click for more information and purchase options