Young author Sam Bauer, who debuted in 2016's stellar anthology collection Sci-Fi from the Rock has taken the time to share his thoughts and feelings about his neighboring stories in the collection.
Whitecoat by Kenneth Tam:
"After reading this, I definitely need to pick up a copy of the novel itself. Set in an alternate Newfoundland, with a somewhat nebulous difference from our own, the quality of this story promises great things from the novel."
Sunny Days by Jennifer Combden:
"I love a good hard sci-fi piece. With this dealing with our own sun destroying us, it certainly fulfills the author's purpose of informing people with literature."
The Shoe by Matthew LeDrew:
"A brilliant story. This piece reminds us about how we may be viewed many years from now with other than human eyes."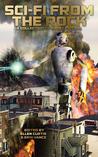 Immune by Jennifer Combden:
"Perspective plays a big role in literature, and the perspective chosen for this piece is excellent. The perspective of a child in a disaster is not one I often see, and it was used phenomenally in this piece."
Hag Ridden by Tara Murphy:
"I love horror, as can be discerned from the fact I wrote a bit of horror in this anthology. This one is frightening because what happens in it could happen to anyone, without you being able to stop it. Brilliantly done!"
Invasion by Matthew LeDrew:
"Another chilling story by Engen's resident horror writer. One of two horror stories by Matthew in this anthology, its unnerving tone and final reveal sent shivers down my spine."
Flight or Fight by Scott Bartlett:
"The humor and quick-witted charm of this piece makes it an enjoyable read. Though I can tire of dystopia, Flight From Dodge has such perfect tone that I must pick up a copy of the full novel, and enjoy another dystopian world."
The Chair by Matthew LeDrew:
"Matthew LeDrew strikes again! A first person piece, the speaker talks about local folk tales, a personal interest of mine, and the twist in the tale makes for a fun read."
Cast, Clutter, Pack, Murder by Erin Vance:
"Computers and animals are wonderful things on their own, and by combining the two, this piece has made something excellent. If this is the promised novel's premise, I can't wait, and if it isn't, I still can't wait to read more by Ms. Vance."

Spooky's Gambit by Jay Paulin:
"With a simple and amusing premise of space cats, this is a delightful read. Clever and fresh, it is certainly some of the funnest sci-fi I have read to date."
Woven by the Thief by Melanie Collins:
"An intriguing read. The idea that dreams can be harvested and weaved by the tooth fairy is fascinating, and the vagueness of this piece only adds to the mysterious atmosphere."
The Silence Between Moons by Peter J. Foote:
"A good read. It's emotionally provoking and draws the reader in with mystery and keeps them there with romantic intrigue. I cannot wait to see what Mr. Foot will do for Fantasy from the Rock."
The Sorrows of War by Stacey Oakley:
"From one fantasy piece to the next, we get a very different tone, style and subject matter, but a similar emotional payoff. The enigmatic nature of the relationship between the two characters is intriguing, and ultimately emotionally resonant."
Healer's Hordes by Matthew Daniels:
"A fun short story, yet again fantasy. The treatment of the classic "dragon with a horde" is cool, and I enjoyed the writing style thoroughly. I hope to read more by Mr. Daniels in the future."
Holy Troll by Darren Hann:
"An excellent read. The perspective is well written, and the style is perfect for the story. I won't say much more about this one, other than well played Mr. Hann."
Twenty-One by Ali House:
"The last is certainly not the least in this anthology. Some good Young Adult fiction is set up here, with something that pulls at my personal heartstrings. It is another book I must pick up when it comes out."
Final Thoughts:
This is an excellent selection of short fiction. From Sci-Fi, to Horror, to Fantasy, everything is good. And, this book is more than just words on paper. It is a doorway. For the reader, to worlds dreamt up by the talented authors, and to the young and aspiring authors, to the world of writing. And once you pass through, you'll never look back.