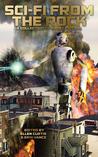 Peter J Foote, author of the short story The Silence Between Moons from the 2016 Sci-Fi From The Rock anthology will be appearing with and signing copies of the collection at the East Coast Comic Expo in Moncton May 20-21st 2016.
Other guest include Canadian comics legend Sandy Carruthers, whose greatest success was illustrating The Men in Black, the comic which later became, Men in Black. Carruthers also worked on Captain Canuck,  was the Editorial Cartoonist for the Charlottetown Guardian newspaper, and published a book of editorial cartoons entitled Sh-It Happened.
Foote will be appearing not only to promote his work on "The Silence Between Moons" but also to promote his bookstore, FictionFirst.
Fictionfirst Used Books specializes is previously enjoyed Sci-fi & Fantasy Novels, Roleplaying Manuals and Graphic Novels. The store is run out of Foote's home in the Annapolis Valley and open by appointment only, though they ship Canada wide. At over 5000 titles strong, interested parties are encouraged to request a copy of their inventory via his Facebook page.