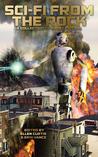 So you just read Stealing Back Freedom, the first short story set in the new Gold and Steel book series, from Sci-Fi from the Rock and you're wondering, as well you should be: what happens next? What happens to Orangecloak? Where does the story go from here?
"Stealing Back Freedom" is merely prelude to a lengthy, astonishing adventure that fantasy fans have been waiting years for. The first novel in the Gold and Steel series, As Fierce as Steel, is available now! Anyone who enjoyed "Stealing Back Freedom" should check it out, and then come right back to Engen Books next year for Fantasy from the Rock for the next chapter in Chris Walsh's epic fantasy saga!
---
As Fierce as Steel by Christopher P. Walsh
As Fierce as Steel is the inaugural entry into the world of Gold & Steel, a new fantasy series from Canadian author, Christopher Walsh. It is centered around the lives of two women, those of the Lady Orangecloak and Lady Marigold Tullivan. One is the leader of a brave group of young men and women in open rebellion of their government. The other was born into that patriarchal world and destined for greatness, as a trophy wife, a fate she will do anything to alter.