Sci-Fi on the Rock 10 starts tomorrow, April 1, and last until April 3 at the Sheraton Hotel Newfoundland. In attendance will be Engen authors Matthew LeDrew & Ellen Curtis, as well as Engen Head-Editor Erin Vance!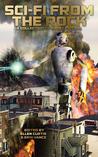 The weekend is jam-packed with events and panels from your favorite Engen authors, contributors, and friends!
Friday, April 1
5:00-5:50pm in the Roddenberry Room:
Book Launch for Sci-Fi From The Rock!
Celebrating 10 years of Sci-Fi on the Rock with this special commemorative volume featuring over twenty short stories by some of Atlantic Canada's most impressive indie talent in science-fiction!
Saturday, April 2
11-11:50am in the Nimoy Room:
Finding a Partner in Crime: A Guide to Story Collaboration
with Jay Paulin & Ariel Marsh!
Struggling to find a co-writer or co-creator for your project? Having a tough time compromising with a partner? Join the author of Spooky's Gambit to learn the tricks that have allowed us to thrive together for five years.
3-3:50pm in the Tolkien Room:
Take Control: Why You Should Self-Publish Your Fiction and How to Do It
with Scott Bartlett, author of Flight or Fight
Full-time indie author Scott Bartlett will outline the benefits of independently publishing your fiction in today's rapidly changing market and will also take you through how to do it. He'll finish with a reading from book 1 in his new dystopian satire trilogy.
6-6:50pm in the Lucas Room
The Most Dysfunctional Writing Panel Ever
with Engen Books and friends
Join a convention tradition as an all-star cast of authors debate the merits of each other's writing advice. Come with questions to ask, and stay for the laughter that ensues.
Sunday, April 3
9:30-10:20am in the Roddenberry Room
Ambassador Series: A New Era in Publishing
Kenneth Tam, author of Whitecoat
Kenneth Tam was Sci Fi on the Rock's first guest in 2007, and he returns for the tenth anniversary to offer a special workshop about the changing face of fiction publishing.
Author of more than 50 titles, with numerous books in the Amazon Top 100 lists, he has watched the publishing industry go through massive changes over the past 14 years –– and has helped his family's independent house, Iceberg Publishing, thrive during this tumultuous time.
Sharing first-hand experiences about web, media, events, photo shoots, marketing, advertising, and of course, writing, he will offer up-to-date sights into the strategic reality of publishing. Anyone interested in writing and releasing their stories is invited to bring their questions.
11:30-12:20 in the Lucas Room
A Totally Awesome Book Launch! Emma Awesome Hits the Stage in Her Print Debut
Jay Paulin, author of Spooky's Gambit
Dig comics? Dig rock and roll? Dig graves? Then join Ink'd Well Comics for the launch of Emma Awesome! Join us for a talk about comics (web and print), weekly schedules, and the creative process.
12:30-1:20pm in the Tolkien Room
Small Press Publishing
with Matthew LeDrew, Ellen Curtis & Erin Vance
Join Engen Books' Matthew LeDrew, Ellen Curtis, and Erin Vance as they take you behind the scenes of operating a small press publishing company and bringing books to print.
Also all day, every day drop by the Engen Books booth to chat about books and catch our newest releases, including Sci-Fi from the Rock, Exodus of Angels, and Sinister Intent!