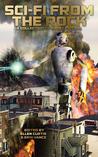 Sci-Fi from the Rock launches at the 10th Annual Sci-Fi on the Rock in just 7 days!! What's that you say, that's too long to wait to get your hands on the newest stories by the most influential independent authors in the Atlantic provinces? 7 days is too long to go without reading about the first Super Galactic Space Explorers prose story? The introduction to Kenneth Tam's Champions series? The first story in Chris Walsh's Gold and Steel series? The birth of Ali House's new universe?
Well you're in luck! Just for you guys, the book is available for download on Kindle now! Download at an amazing discount, less than $4 CAD, to get all the action, suspense, and thrills you can handle!
Those reading this after the fact who already have a physical copy: fear not! Sci-Fi from the Rock is a part of the MatchBooks program! Owners of the physical book can receive a digital copy at an extreme discount: only 99 cents!
So you say you just can't wait? You don't have to!!