When it comes to distractions (and that is the name of this blog after all) nothing eats up more of my time than anticipation: that time spent waiting for the next novel in a series or the next season of a show of the next movie in a franchise. Follow my train of thought here: if the next movie in my favorite franchise was out I could just watch it, a distraction from my work of no more than 3 hours. But waiting for it, wondering about it, watching trailers, reading predictions, fixating on it, and then watching it: that's a much heavier time commitment that I should be using to write and edit.
With that in mind, here are my Top 4 most anticipated book releases of 2016. These are the books that have left me sitting in my chair wondering rather than sitting in my chair working, and time can't tick by fast enough for them to arrive!
Devious Minds by Colleen Helme
The eighth novel in the Shelby Nichols series continues the adventure one of the best female action heroes of the 21st century (and that is some stiff competition). It's been almost a year since a near-fatal gunshot wound left Shelby Nichols with the ability to read minds. In that time she's faced one problem after another. She's been shot at, framed for murder, and targeted by a serial killer, just to name a few. Now she's trying to help her lawyer husband win a murder trial that will enable him to become a partner in his law firm. Sounds easy, right? But nothing ever goes as planned when it comes to Shelby Nichols.
This series hooked me with its first entry, Carrots, and it have been one of my can't-miss titles since. It's available in physical print, eBook, and audiobook. Pick your favorite method to enjoy and I bet you'll be feeling the anticipation too.
---
Flight or Fight by Scott Bartlett
Scott Bartlett is fast becoming the author with the most amount of "auto-buy" fans in the province, and it's easy to see why. He has hit after hit on his hands with Taking Stock, Royal Flush, and Finished with Life. Now he's starting another epic sci-fi series, this one set in a dystopian future. With Bartlett's sharp wit, ear for dialog, and biting social commentary, this book is one I'm watching for and should be on everyone's want-to-read list on Goodreads.
---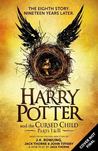 Harry Potter and the Cursed Child by J.K. Rowling
Well I mean of course "The Cursed Child" is going on this list. How could it not be? This is easily the most anticipated book of the decade, let alone of 2016. But a lot of people have been waiting for this book for the majority of their adult lives… I only read the original seven Harry Potter books in 2015! I was very late to the game I know, but I finished them all in one week and it left me wanting more… and not a week later "The Cursed Child" was announced! Hmmm…. maybe I should make more wishes…
---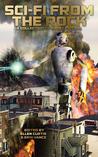 Sci-Fi from the Rock by Erin Vance & Ellen Curtis
This book actually holds a special place for me: this will be the first Engen Book I will have ever read for the first time when it's in print.
Because you have to understand, typically as manager I read every book that comes through here 10-20 times at least before it hits the stands. But we've got a stellar staff with Erin Vance and Ellen Curtis editing this collection so I was hands off, and now this April 1st I'm looking forward to reading this right along with everyone else! Featuring the talents of over fifteen amazing Canadian authors including some of the authors on this very list, Sci-Fi from the Rock has been a long time coming and now I'm full of anticipation.
---
Well those are the 5 books I'm really looking forward to in 2016, be sure to check them out as well and let me know if you thought my anticipation was worth it. What are your most anticipated titles?
Hopefully with this exercise, I can get back to real work now… 🙂