Our second author to be featured in April 2016's Sci-Fi from the Rock has been announced: Christopher Walsh, with his short story, "Stealing Back Freedom"!
Christopher Walsh is an author from Brigus South, Newfoundland. Stealing Back Freedom is a prequel story from his fantasy series Gold & Steel, the first, full-length entry of which is titled As Fierce as Steel and is to be released in early 2016.
Over the past four years, Chris has been crafting the massive world of Gold & Steel and putting together what will be his first entries into the even bigger world of publishing: As Fierce as Steel and Stealing Back Freedom.
When not writing, Chris works as an apprentice carpenter and enjoys reading a variety of material with particular interest in other fantasy works. He's also an avid video gamer and hiker.
There's going to be 110 copies on sale at Sci-Fi On the Rock and if you want a copy you can ensure you do by reserving one. If you want a reserved copy, you can email thegoldandsteelsaga@gmail.com.
When asked about his accomplishment, Walsh said via social media: "And yet, this is just another step, this is not the end goal, not by a long shot. Having a book in hand that I wrote is a major step, I'm ridiculously happy right now just looking at it. However, the next step is to get the first part of the Gold & Steel story out there so that I can continue to write the rest of it."
Both "Stealing Back Freedom" and "As Fierce As Steel" are on GoodReads now! Sign in and select "Want to Read" to get all updates and even be alerted when giveaways approach!
---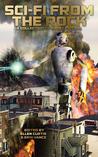 "Stealing Back Freedom" : Sci-Fi from the Rock by Christopher P. Walsh
Nineteen short stories written by an eclectic mix of some of the best science-fiction and fantasy authors in Atlantic Canada, some of them award-winning veterans and some of them new to the craft for the first time.
---
As Fierce as Steel by Christopher P. Walsh
As Fierce as Steel is the inaugural entry into the world of Gold & Steel, a new fantasy series from Canadian author, Christopher Walsh. It is centered around the lives of two women, those of the Lady Orangecloak and Lady Marigold Tullivan. One is the leader of a brave group of young men and women in open rebellion of their government. The other was born into that patriarchal world and destined for greatness, as a trophy wife, a fate she will do anything to alter.