In all the hype leading up to 2016's hotly anticipated collection Sci-Fi from the Rock and its many authors, it's easy to overlook the other great titles being released in April: such as Ellen Curtis and Matthew LeDrew's Exodus of Angels.
After 3 and a half years, readers will finally be able to check back in with Victor, Jaycee, Theo and Leigh this April with a story that will touch the hearts and minds of anyone who reads it — as well stoke the fire of anyone who believes there to be a common thread running through all of the Engen Universe titles, including the Black Womb, Xander Drew, and Benedict Forecasts series.
Led by series creator and show-runner Ellen Curtis, the novel will delve into Theo's troubled past first glimpsed in the short story "The Theogony" and introduce startling new characters within the walls of the Black Springs Psychiatric Ward.
Pick up your copy on April 1, and if you haven't tried out the Infinity series by Ellen Curtis and Matthew LeDrew yet, the e-books are on sale now with links below!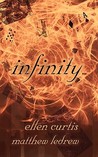 Infinity by Ellen Louise Curtis and Matthew LeDrew
Series: Infinity, #1
The Pitch: Faced with a destiny he's uncertain of, the enigmatic Victor must bring together four unique people with very special abilities… or face the tasks ahead alone. Guaranteed to excite!
---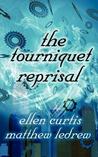 The Tourniquet Reprisal by Ellen Louise Curtis and Matthew LeDrew
Series: Infinity, #2
The Pitch: There is a man living in Atlanta Georgia that people don't talk about, but everyone knows he's there. He arrived a year ago and turned a gaggle of uneducated and uninterested youth into a force to be reckoned with; something to fear more than any demon or violent act: something new.