One of the most enigmatic and divisive characters in the current Engen- Universe roster is Leigh Draco, otherwise known as Blackheart. One very important reason for this is her status as one of the only characters to legitimately be a mainstay of both of the longest-running Engen- Universe series: Black Womb and Infinity.
Publication schedule-wise, Blackheart first appeared in 2009's Roulette: but this doesn't mark her first chronological appearance. As seen in the 2012 short story Revving Engen by Matthew LeDrew, the titles Black Womb and Infinity occur at roughly the same time, meaning that while the murders that would mark Coral Beach were taking place, the young thief known as Leigh Blackheart was meeting Theo Flaherty on the streets of Los Angeles.
Beware, this article may contain spoilers.
Leigh's powers go far beyond her prowess as a thief. Like many characters in the greater Engen Universe, she is gifted with the ability to temporarily turn herself into a semi-solid state similar in consistency to thick water or tar. This allows her easy access to places where her fellow thieves would be unable to get to. However, as is the case with most Engen- Universe characters, he powers come with a catch: while in her liquid state, she cannot breathe and must hold her breath for long periods of time, like a pearl diver.
---
Creation
Leigh is also unique among her fellow Engen characters in that she is one of the few who maintains a real-life legal status of being created by more than one person.
"I write some of the Black Womb (series) books when I was quite young," has said Matthew LeDrew, author of Black Womb and co-author of Infinity. "As such there are times when characters pop up that were fascinating to me then, but who no longer held interest for me."
For LeDrew, Blackheart was one of those characters. Although he had chosen to keep her as the secondary antagonist of Roulette, she was originally supposed to have a much larger role in future Black Womb novels and on into the Xander Drew series, but LeDrew opted instead to write her out.
But authors do not always understand what their readers want. Ellen Curtis, upon hearing that Blackheart would not be used again, asked LeDrew what his plans for her had been and adopted them to her own plans, choosing to use the character in Infinity although in a vastly different way.
The interpretation of Blackheart in the Infinity series is so different from that in the Black Womb series that Curtis has been granted the status of her creator, meaning that she has final executive decision on when and how the character is used.
"Much in the way that, although Stan Lee and Bill Everett created Daredevil, Frank Miller is also credited with his creation because his re-imagining of the character was so influential and defining, both LeDrew and Curtis hold the title of Blackheart's creator."
---
Appearances / Timeline

The Long Road by Matthew LeDrew
Series: Black Womb (epilogue), Xander Drew (prologue), Infinity (related)
The short story, "Interlude," focuses on Blackheart as she steals a very important item from a wealthy, well-protected home in Los Angeles only to be attacked by a mysterious and powerful man named Shadow Flame.
Note: this story's placement on Leigh's timeline has not been definitively set by Ellen Curtis.
---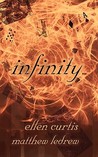 Infinity by Ellen Louise Curtis and Matthew LeDrew
Series: Infinity, #1
Leigh meets Theo Flaherty on the streets of Los Angeles while he is searching for his lost friend, Abby. This chance meeting — and the brief romance that followed — drastically changes the fate of both individuals. After their encounter Theo is no longer hung-up on Abby and has hopes of pursuing this new mysterious young woman. Leigh on the other hand leaves Theo as he sleeps, and is last seen being carried away by an ambulance, her powers causing her mass to destabilize.
---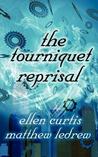 The Tourniquet Reprisal by Ellen Louise Curtis and Matthew LeDrew
Series: Infinity, #2
Desperate for a cure for her rapidly deteriorating condition, Leigh partakes in a daring daylight raid of a Shane International building, blaming them for the rapid fluctuations in her abilities and her adeptness at controlling them. Her efforts result in an unintended — and televised — hostage situation, drawing the attention of both Theo Flaherty and an unnamed vigilante with powers similar to hers, who is intent of stopping her. Leigh survives the encounter with the driven young vigilante only by the skin of her teeth, and just as she is about to run, is confronted by Theo.
---
Roulette by Matthew LeDrew
Series: Black Womb, #4
Taking place simultaneously with The Tourniquet Reprisal but from an opposing point-of-view, we learn that the young vigilante Blackheart went at odds with was in fact Xander Drew, who was vacationing in the city as a part of a class trip with Mike, Cathy, Tommy, and Julie. Leigh's desperation here, combined with powers that are a step above the normal humans Xander is used to contending with, combine to make her seem horrific and frightening in her appearance here. She defeats the young man — barely — but opens his eyes to the fact that people with powers and abilities similar to his own exist outside his hometown of Coral Beach, a realization that will have grave consequences in the Engen- Universe.
---
Ignorance Is Bliss by Matthew LeDrew
Series: Black Womb, #6
Leigh is once again seen breaking into a highly-secured facility, this time to steal a gem rumored to be exceptionally powerful. This time, however, she is double-crossed by her benefactor,  Sebastian, who assaults her after she acquires the gem for her and continues on to Coral Beach to find the last of the three gems he in hunting for.
---
About the Artist

Super Galactic Space Explorers volume 2 by Jay Paulin & Ariel Marsh
Series: Super Galactic Space Explorers, # 2
Ariel Marsh is the co-creator and artist behind the intrepid graphic novel series, Super Galactic Space Explorers, in which a team of daring cats launch a rebel attack against one very bad kitty: Queen KitKat, to free the galaxy from her tyrannical reign. She has also co-created the web-comic Emma Awesome: Undead Rock-Star, all of which is available for viewing or for download on the Ink'd Well Comics website. Commissions can be ordered from the artist at her website, Sweet Loots.