Erin Vance is an editor for Engen Books on a work-for-hire basis and is currently accepting proposals for more editing work in both copy and content from authors of all backgrounds and skill sets, subject to right-to-refusal and prices to be negotiated based on the amount of time each project is estimated to take. Potential authors wishing to work with Erin should write erinvance@engenbooks.com and allow up to four weeks for a response.
Author
---
Song of the Mockingjay by Erin Vance
Series: Engen Academia, #1
The Pitch: An essay examining the nature of Katniss Everdeen's agency in Suzanne Collins' The Hunger Games series. Considering the current state of global affairs, and the increasing numbers of conflicts, readers of The Hunger Games will likely have to confront oppressive regimes, whether in their own country or in another. Therefore, the fact that The Hunger Games does not glorify war and condemns government oppression demands further critical analysis and recognition.
Click for more information and purchase options
Editor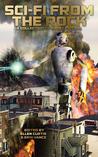 Sci-Fi from the Rock by Erin Vance
Series: From the Rock, #2016
The Pitch: Nineteen short stories written by an eclectic mix of some of the best science-fiction and fantasy authors in Atlantic Canada, some of them award-winning veterans and some of them new to the craft for the first time. Edited by Erin Vance and veteran science-fiction author Ellen Louise Curtis, this collection features the heartfelt, creatively charged, astonishing fiction that showcases the talent and charm Atlantic Canada has to offer. Featuring the work of Kenneth Tam, Scott Bartlett, Jay Paulin, Alison House, & many more!
Click for more information and purchase options
---
Smoke And Mirrors by Matthew LeDrew
Series: Black Womb, #2
The Pitch: The approaching execution of Adam Genblade brings closure to the men and women of Coral Beach… until people start showing up dead in the same manner they did when he was at large. Now his victims are forced to keep him alive in order to get their answers… or accept that it may not have been him to begin with.
Note: Erin edited the 2015 international edition of Smoke and Mirrors only.
Click for more information, reviews, and purchase options
---
Cinders by Matthew LeDrew
Series: Xander Drew, #1
The Pitch: Thomas Horton is a good cop. Focused and unyielding, he has one of the highest solved-case rates in Los Angeles, a city with the highest unsolved murder rate in the whole of the United States. Despite his record, his resolve is questioned by the appearance of a young man named Xander Drew: a man equally as focused and determined, but who refuses to operate within the confines of the rigid California legal system.
When the egos and obsessions of both men collide, Horton enters a violent and dangerous world he didn't know existed beneath the veneer of order and structure that he has based his entire deductive method around, forcing both men to question everything they knew… until they are both threatened to be dragged down to a place where everything burns, until all that are left, are Cinders.
Click for more information, reviews, and purchase options
---
Sinister Intent by Matthew LeDrew
Series: Xander Drew, #2
The Pitch: Thomas Horton was a good cop. Faced with early retirement as a result of his affiliation with the secretive and sometimes violent vigilante named Xander Drew, he tries to settle into civilian life: but there remain three unsolved cases from when he was on active duty. The facts of these three unsolved cases still keep him up at night.
Now in the short time since he left his position, one of the killers he could not catch has resurfaced: a serial killer who flaunts his sinister intent in front of the Los Angeles Police Department for all to see, making it so that no one is safe. Unable to convince the rest of the LAPD of the connections between the two cases, Horton must again ally himself with Xander Drew, entering in a game of quid-pro quo in exchange for information about a dangerous gang-lord. Without the badge to shield him, can Horton's moral certainty survive another encounter with Xander?
Click for more information, reviews, and purchase options
---
Exodus of Angels by Ellen Louise Curtis and Matthew LeDrew
Series: Infinity, #3
The Pitch: Theo returns to the mental institution called Black Springs to help a young girl who has been trapped there while at the same time hunting for a cure for the beleaguered Leigh Blackheart. At the same time, Victor and Jaycee Victor and Jaycee venture to a palliative care unit in Los Angeles which holds a dark secret. Exploring themes of responsibility, the bounds of friendship, and assisted suicide, this installment is not be be missed.
---
---