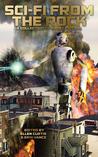 After the colossal success of Sci-Fi from the Rock this past 10th Anniversary weekend, Engen Books has decided to continue the line with Fantasy from the Rock, to be available in Spring 2017 at the eleventh annual Sci-Fi on the Rock convention.
"The response from fans was enormous and overwhelming," said Engen founder Matthew LeDrew. "We we able to publish a number of first-time authors alongside established pillars in the Newfoundland science-fiction community like Kenneth Tam and Scott Bartlett, of Iceberg Publishing and Mirth Publishing, respectfully. Engen Books has always been a fan of placing new talent alongside established talent, giving those new voices a chance to shine in a way they may have have otherwise."
While the inaugural volume was titled Sci-Fi from the Rock, it in fact told PG-rated stories from the fantasy, science-fiction, and thriller genres. This new collection will focus more heavily on genre-specific stories, with each successive volume then showcasing different talent within the Canadian writing scene.
Editors Ellen Curtis and Erin Vance are scheduled to return to helm the project.